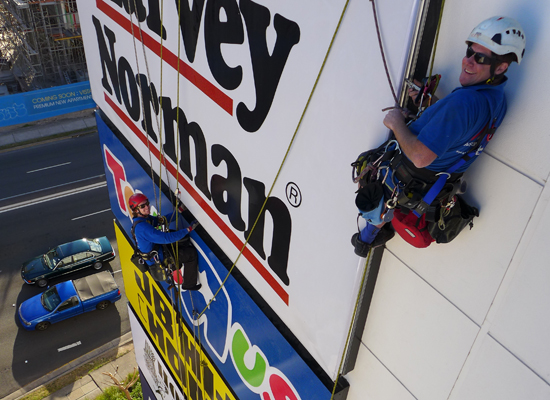 Abseil Access specialises and has vast experience in the installation and removal of sky signage, banners and advertising material on buildings and structures at height.
The team can, based on our client's requirements install from single to multiple signage works including full corporate re-brands. Over the last decade we have worked across Sydney and Australia with major companies assisting them with their name and brand recognition through sky signage for their customers.
As the team has extensive experience in using industrial rope access methods for the installation of signage, we are able to work with clients to deliver signage projects in an efficient, cost effective, timely and highly professional way. Applying Industrial Rope Access methods in this way allows projects to be delivered with minimal disruption to building occupants, and can remove the need for the use of heavy access equipment such as scissor and boom lifts.