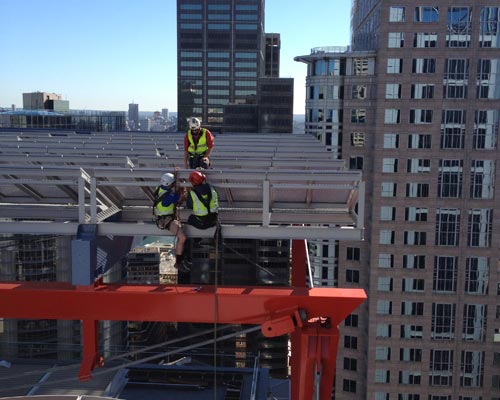 Industrial rope access inspections are an efficient way to undertake inspections at height.  Rope access methods can provide a fast solution for inspections when potential problems are identified and for new building inspections.
Abseil Access are able to provide detailed inspection solutions for buildings and structures where scaffolding or other alternatives may be impractical; typically, these may be high rise buildings, bridges, towers, masts and chimneys.
Our rope access inspection and reporting services are suited to both existing and new structures. These include:
Leak detection
Simple visual inspections
In-depth complex inspections to identify safety and quality issues
The Abseil Access rope access team have the extensive experience in inspections for leak detection and water ingress issues.The team have a sound knowledge of building structures which allows them to carry out inspections at height efficiently.
 Reporting is completed in a timely manner with photographic, video evidence (still or video) and drawings used to support and communicate the findings.