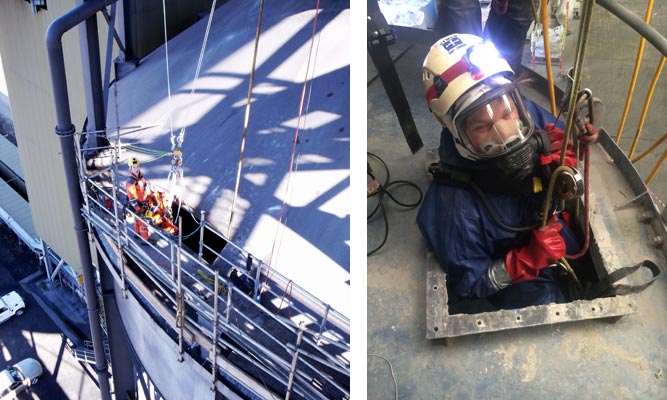 Confined Spaces can be enclosed or partly enclosed spaces with difficult access that combined with other features make them potentially dangerous to work in.
Confined spaces are commonly found in pipes, shafts, ducts, vats, flues, silos, pressure vessels, underground sewers, pits, storage tanks, process vessels, boilers,open-topped spaces degreasers, cargo tanks, cellular double bottom tanks, duct keels, ballast oil tanks and void spaces or other similar enclosed or partially enclosed structures
Our specialised Confined Space Access and Rescue Team at Abseil Access have the training, correct equipment and expertise to sufficiently prepare the space for entry, complete the job done efficiently and exit out of the space safely. Workers and supervisors must have the skills and knowledge to understand the:
hazards associated with working in a confined space
details on any confined space entry permit
control measures implemented for their protection.
The abseil access team have been extensively trained in the correct procedures in relation to Confined Space Entry our skills include:
Risk assessment procedures for entering the Confined Space
Identifying the potential hazards of individual Confined Spaces
Risk control measures inside the Confined Space
Selection, use, fitting and maintenance of safety equipment
The use of Compressed Air Breathing Apparatus (both Self Contained and Long Line)
Vertical and Confined Space Rescue Procedures
Emergency Response First Aid