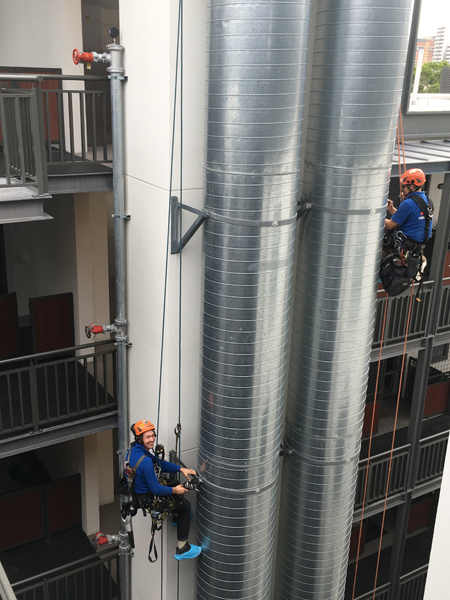 Industrial Rope Access is an efficient method of achieving a safe working position at heights or in areas of difficult vertical or confined access. IRATA (Industrial Rope Access Trade Association) standards are the sole internationally recognised methods of Industrial Rope Access.
Abseil Access technicians are Industrial Rope Access Trade Association (IRATA) certified, providing our clients with work performed under the safest international Industrial Rope Access standards. IRATA describes the benefits of industrial rope access as:
"Rope access methodology boasts an unrivalled safety record, short set-up and dismantling time, positive environmental benefits and removes the need for invasive access equipment or disruption to a worksite"
Applying Industrial Rope Access methods allows tasks to be achieved with minimal disruption to building occupants, the general public and traffic flows. Utilising Industrial Rope Access can avoid the need to shut-down large work areas with scaffolding and can help minimise the use of heavy machinery such as scissor and boom lifts.
Abseil Access provide the following services using rope access methods:
Sign and Banner removal and installation
Sky sign removal and installation
Building illumination
Building Maintenance
Remedial repairs
Confined space work
Industrial Cleaning
Painting
Inspections
Rigging
Geotechnical services