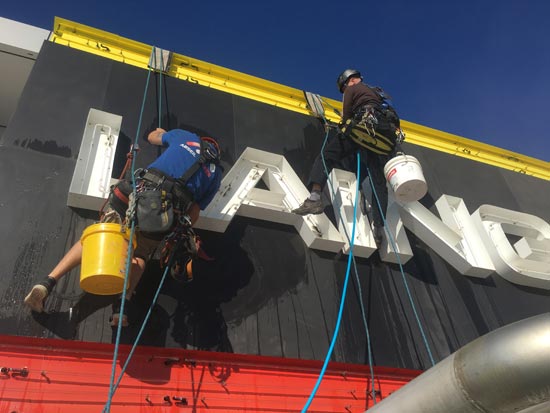 Rope access has a proven record of effectiveness to reach and clean areas that are inaccessible with other methods. Industrial rope access techniques can be adapted to all kinds of structures from high rise buildings to space frame atriums and stadiums. Rope access methods make it easy to maintain cleanliness on a variety of hard-to-reach areas. This reduces the need for heavy machinery which may restrict access to large areas for extended periods of time.
Our rope access cleaning services are suited to both small scale domestic, residential and strata buildings through to high rise industrial and commercial buildings and include:
 Window cleaning (interior and exterior)
Construction site – builders clean
Façade Cleaning
Graffiti Removal
Pest removal and clean ups
In the case of pest clean up and removal, Abseil Access are able to safely remove the build-up of bird and other animal 'waste', clean and install 'pigeon spikes' to prevent the hazard for reoccurring.